Italy is home to some of the world's biggest luxury brands whose opulent reputation is attached to enormous price tags. Should you be in the market for these designer labels, you may wonder whether a shopping spree in Italy would be kinder to your credit card.
Numerous luxury fashion houses are based in Italy, where their merchandise is cheaper due to VAT refunds, lower transportation costs, and the absence of import and export fees. On average, there is at least a 10% difference between the price of luxury brands in Italy and America.
An authentic designer label purchase is the perfect souvenir from a luxurious Italian vacation. While luxury brands are priced cheaper in Italy, there are several shopping savvy techniques you will need to get the most brand for your bank.
Why Are Luxury Brands Cheaper in Italy?
VAT refunds largely contribute to the price reduction of luxury brand merchandise in Italy. A VAT refund is reimbursement of funds paid towards VAT on goods purchased in a foreign country. You can receive a refund rate of 22% when shopping in Italy. To qualify for a VAT refund in Italy, you must spend a minimum of 155 Euros at a single store.
To receive the documentation for your VAT refund, you must present your passport at the store's checkout. In conjunction with your documents, you must present your purchases at the airport customs desk. Your merchandise must be unused when presented for customs inspection to receive your VAT refund.
When visiting the customs kiosk, it is best to pack your purchases in your carry-on luggage. The inspector may ask to inspect your purchases before stamping your tax documents from each store. You must then submit your stamped documents at the tax refund kiosk to receive your refund.
Because many luxury brands produce their stock in Italy, local outlets do not need to pay for international shipping costs or include import/export fees in their price markup. This significantly lowers the price of luxury goods in Italy.
Where Should You Shop for Luxury Brands in Italy?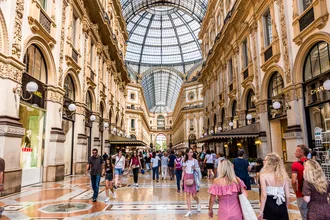 "The Mall" – https://goo.gl/maps/ZokmFnS5EjDnMDw86
Tuscany offers tourists an upscale shopping experience. The Mall carries many luxury Italian brands, with many outlets offering discounts of up to 50%. Since the merchandise is shipped daily, you can browse a wide variety of the latest fashions.
Desii Vintage – https://goo.gl/maps/pFQ3udZwY44vp6PM6
Florence houses this treasure chest of vintage designer merchandise with bargain price tags. Since their stock is classified as used, their price reductions can be up to 50% off store prices.
La Bottegas – https://goo.gl/maps/SM4yfuExxnLc42uM6
Florence offers this must-see boutique where you will find an array of budget-friendly vintage merchandise. Since these items have been well-loved by their previous owners, their price tags vary with condition.
Via Condotti – https://goo.gl/maps/WLhSRFc7e3oY2vuH6
This bustling fashion street can be found in Rome, Italy. It is the ultimate spot to taste authentic Italian coffee beans while browsing its variety of luxury fashion brands.
Le Mercerie – https://goo.gl/maps/xHVEBpXaseQfswHN6
Venice boasts this boulevard of Italian luxury brands. Le Mercerie is notoriously busy, so if you seek a tranquil shopping experience, it is best to explore this spot outside of high tourism seasons.
When is the Best Time to Buy Designer Brands in Italy?
Italy hosts two major seasonal sales where you can find your favorite luxury brands at considerable discounts. The first Saturday of January marks the start of the winter sale, while the summer sale begins on the first Saturday of July. Each sale takes place over a month.
Should you wish to avoid crowds and save on travel costs, the winter sale is the best time to shop luxury brands since it is not during a high tourism season. When planning your shopping spree in Italy, it is important to note that many stores close during August as many Italians take leave during this time.
Store discounts are initially lower but increase by approximately 10% every week during the month. While you will find the best deals during the final sale week, the variety of stock will be limited since many sought-after items are purchased during the first week.
While most stores advertise their participation in seasonal sales, some high-end brands avoid disclosing discounts since their image is not associated with bargain hunting. It is always best to investigate store sales during the season, as you may stumble across an irresistible deal.
Does Italy Have a Greater Variety of Luxury Merchandise?
While Italian luxury brands have outlets worldwide, the greatest variety of their merchandise can be found in Italy. The Italian artistry and craftsmanship are unmatched, so fashion houses choose to design and manufacture their products in Italy.
These brands select several products from their range that they predict will appeal to a big market in another country. These products must have high predicted sales to compensate for high transport costs and import/export fees. Thus, customers outside of Italy are only exposed to a selective variety of products.
Shopping in Italy is ideal for those who wish to explore everything their favorite fashion brand offers. Since there are fewer transport costs involved, luxury brands can afford to sell a broader range of items in Italy.
Conclusion
When visiting Italy, purchasing brands that locally manufacture their products will be more cost-effective. Travelers in Italy can claim a VAT refund of 22% on their luxury brand purchases that cost over 155 Euros per store, provided that their purchases are unused when presented to the customs kiosk.
Italian labels have reduced transport costs and no import/export fees when selling their stock in Italy. This further reduces the price of their goods and allows them to carry a broader range of stock. Thus, shoppers will be able to browse a much larger variety of merchandise when visiting Italy.
Italy boasts many high-end shopping districts where you can shop your favorite luxury Italian brands at significant discounts. Furthermore, you will likely find sizeable discounts of up to 50 % while shopping during seasonal sales in January and July.