Along with French, Italian is a very romantic, almost sing-song language that seems to roll off the tongue like paint from the palette of a master. Despite the attractive nature of Italian, it's not something most Americans – barring New Yorkers, perhaps – have ever considered learning. Why would they?
But what if you, as a student, wanted to take advantage of the low costs of a degree obtained in Italy? What if you met someone and decided to follow them back to Milan or Rome and settle there? Would you cope? Would you need to speak Italian in Italy?
You do not need to speak Italian in Italy. However, you will find that learning key phrases will be invaluable in getting about, shopping, and ordering food. If you plan to stay for a long time, you may become frustrated with a limited vocabulary and prefer to learn to speak Italian correctly.
Languages Spoken as First or Second Language in Italy:
Can I Survive in Italy with English?
Yes. But mere survival is an extremely low standard in terms of communication proficiency. It is normally associated with carrying out rudimentary communication tasks like asking the way to the bathroom, ordering meals, getting directions to a museum, buying a ticket on a bus, etc.
What Language Should I Learn if I Move to Italy?
You can get by in English, but you will need to learn Italian if you are immigrating there. From day one, the locals will be far more accommodating if they see that you are making an effort and thus more willing to assist you. Signs are in Italian and can stop you dead in your tracks if you don't know what they mean.
Please don't imagine that you can always work out the word's meaning from the way it is spelled, either. Deluzione can easily be expected to mean 'delusion', but that is incorrect. The translation is 'disappointment', and there are hundreds of these landmines in the language.
The only safe way to navigate this minefield is to learn the language, starting at the beginning, with easy words and then easy sentences. More complex sentences will take time but are far easier when built on a solid foundation. "Ha senso?" . This means 'Does that make sense?', yet if incorrectly pronounced, (assenso) it would mean 'assent' or tacit agreement. Fun, eh?
What is a Good Method of Learning Italian?
Free online app – Duolingo and Babbel are two examples
Online Courses. (Free and paid)
Listen to podcasts
Watch YouTube videos
Use Italian language books
Use flashcards
Face-to-face course.
Don't forget Google Translate – the audible translate feature can be a lifesaver
Go to Italy! Italian language schools for visitors in Italy are plentiful
Ten Phrases Every Italian Beginner Should Master
Ciao – Use this to greet casually and also to say goodbye if you wish.
Buongiorno – Good Morning (less casual than Ciao)
Buonanotte – Good Night (if they're off to bed), or
Sono – I am. Example: Sono Giuseppe, I am Giuseppe, or Sono Americano, I am American.
Mi chiamo – My name is. Eg. Mi chiamo Giuseppe, My name is Giuseppe.
Come ti chiami –What's your name?
Piacere di conoscerti – Pleased to meet you.
Come stai – How are you? (Informal)
Come sta? – How are you? (Formal)
Bene, grazie. E tu? – Fine, thanks, and you?
Social Interaction in Italy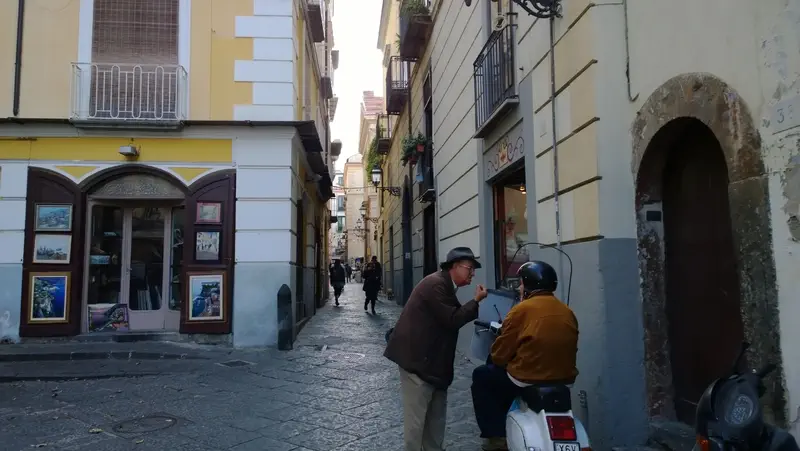 Italian greetings are usually warm and yet rather formal.
The most common greeting outside of COVID is a handshake accompanied by direct eye contact and a genuine smile. If the greeting occurs between a woman and a man, the woman will be first to extend her hand.
People avoid shaking hands above other people's heads. When someone has dirty or wet hands or cannot shake hands for some reason, they may apologize and simply nod instead.
If you know someone well, you may kiss them on both cheeks. Kiss left first to avoid an unwanted clash of heads. This is mainly in the north and center of the country, whereas men in the south prefer to give a pat on the back to show affection when greeting.
Always address a stranger by their title and last name (Senor Collini, etc.) and continue to do so unless invited to move to a less formal basis.
Like old people the world over, the elderly prefer "Signor" (Mister) and"Signora" (Missus).
Is Italian Easy to Learn?
Italian, a Romantic language, is closely related to all of the other languages in the same family, like Spanish, French, and Portuguese, to name a few. For this reason, Italian is often considered one of the easiest languages for English speakers to learn.
Several Places to Learn Italian in Italy
No matter where you travel in Italy, there are numerous classes where visitors and immigrants can learn Italian. I have not personally ever taken one of these classes, but here are four scattered about Italy that you might consider:
The Italian Academy – Italian language school in Sicily

Piazzale San Marziano, 1, 96100 Siracusa SR, Italy
Koiné – Italian Language Centre in Rome

via Tuscolana, 4/A – II floor, 00182 Roma RM, Italy
ELLCI Italian Language School – Milan

Via Niccolò Paganini, 18, 20131 Milano MI, Italy
Parola. Italian Language School – Florence

Borgo Santa Croce, 17, 50122 Firenze FI, Italy
Generally, these schools offer language classes in the morning with excursions in the afternoon or evening.
How Much Does It Cost to Study Italian in Italy?
Thanks to COVID-19, a great many courses are now being offered exclusively via the net. Here is a sample of what you might pay in Italy, although you could certainly take the same course wherever you are:
Intensive online course One-week min. (Four lessons per day) U$175.00 per week
Part-time online course Eight-week min. (Four lessons per week) U$340.00 per eight-week course.
Can I learn Italian for free?
You can, but as with most free things, this comes with a price – nothing in life is truly free, as I've learned over decades. Here are some options:
Online courses, software, and apps.
These can work well, but be prepared to invest the time. Set a period aside every single day and stick to it come hell or high water. Online courses are notoriously attractive to start but have a very low completion rate.
Discipline is vital, and if you already have a full life (kids, demanding job, etc.), you might be better off trying a different method.
Language exchange/tandem learning with a native Italian speaker:
Less easy to manage unless you happen to have a fluent Italian handy. Even then, you will have to have found one that has the time and inclination to assist you, and once again, we are reminded that the road to hell is paved with good intentions.
Media resources like Italian podcasts, TV shows, and movies:
This has solid potential, particularly since the advent of Netflix and online movie channels, but be cautious with subtitles. The people who add them are not always strictly accurate. Quite often, there will be 70+ spoken words and only a single sentence in the subtitles.
Library books and public resources:
Book learning has worked for over a hundred years, but in this age of multi-auditory input, it can be a little flat and takes an enormous amount of discipline. In addition, libraries are notoriously quiet, which works well for some people, whereas others might find the silence deafening.
Immerse yourself in Italian culture. If you have time before you go to Italy, visit authentic Italian restaurants, tune in to Italian radio stations, preferably with some speech and music, and absorb everything.
This will not provide you with fluency in 'modern Latin', but you will have a head start at least. Practice your smattering of words in delicatessens and wherever else there is an Italian serving you. Naturally, immersing yourself in Italian culture in Italy itself is by far the best way to go.
Caveat – When learning this classic language, do the one thing very few non-Italian speakers do: work on the accent and avoid butchering what you have mastere.
Can I Easily Emigrate to Italy?
US citizens require an entrance visa (which can be obtained at any Italian consulate prior to visiting Italy) to remain in the country longer than three months and obtain resident status. This procedure has been known to take many weeks to complete, and the authorities recommend that you apply well in advance of your departure date.
Is Italy a Good Place to Live?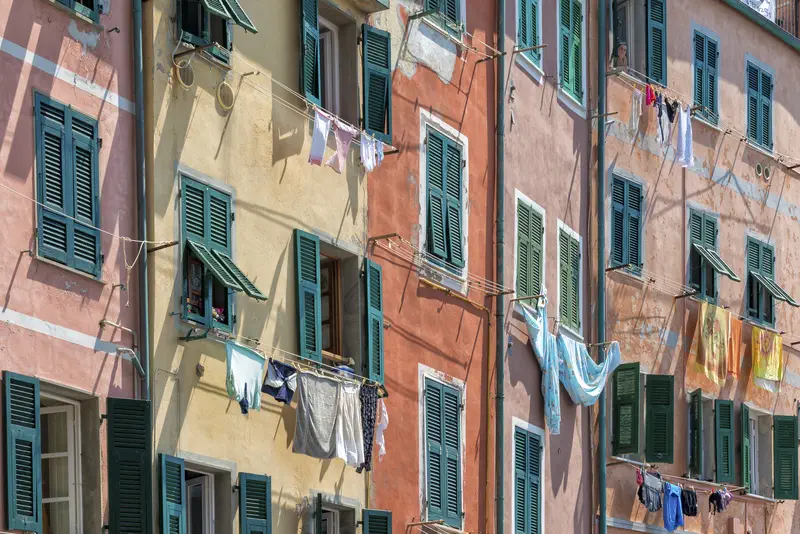 Every true patriot worldwide wants to claim that the country they live in is the best in the world, and almost all will get visibly upset if you show disdain for their beloved homeland, wherever it may be. With the various perks that come with residing in Italy, their proud patriotism is easily understood, and without denigrating any other country, it would seem a tough task to find a nicer country in which to live:
The surroundings: Venice or Milan, Florence or Rome – This country is imbued with the most wonderful architecture and town planning imaginable. The countryside is pristine, and the whole vibe is exciting.
The lifestyle: Italians rate family above all else, and an aura of well-being surrounds most households. People are far more tolerant of their neighbors than you might expect, and home life is generally well-balanced and nurturing.
The cuisine: One of the finest cuisines in the world, Italy offers far more than pizza and pasta, and most meals eaten out are a small gastronomic event. Olives and wines from local vineyards and veal and fish compete with crispy fresh salads for your palate's attention.
The education system: At six years of age, children begin a free and compulsory education at Scuola Primaria, (which is essentially elementary school,) and stay in school until at least 16 years of age.
From ages 11-14 students attend La Scuola Secondaria di Primo Grado, or (middle school.) When the final year of La Scuola Secondaria di Primo Grado is completed, students that are 16 years old will attend a high school known as La Scuola Secondaria di Secondo Grado.
At this point, they focus on their strong points and attributes and prepare for a career. These schools offer everything from fine arts, through sciences, to agriculture and more. This period is vital because the student concentrates on what they enjoy and excel at.
Learning Italian Can Help a Student in General
Italy is an extremely affordable destination for international students who wish to study abroad, including tuition fees and living costs. You may care to check out the Studyportals Scholarship to get some assistance in financing your studies in Italy.
Are Universities in Italy free for Italians?
Education of all levels is free for students and children of all nationalities, provided they are residents of Italy. As with many countries, international students are not entitled to tuition-free education.
How Much Will It Cost Me to Study in Italy?
Public universities in Italy set their tuition fees based on discipline and the degree type (Bachelor's, Master's, Ph.D.). On average, tuition ranges between U$1000 and U$5000 per academic year. If you're a non-EU or EEA student, some study programs can demand a much higher tuition cost.
How Long Can I Stay in Italy?
Americans staying or traveling within Italy for less than three (3) months are considered non-residents. This includes persons on vacation, professional trips, students registered at an authorized school, or persons performing research or independent study.
Cost of Living
The United States is around 35% more expensive than Italy, although American prices are more affordable in fuel, transportation, and clothing. Daily living in the cities will set you back just under U$2000 per month, but this includes rent, so if you're sharing, that cost decreases.
General Decorum
Like it is elsewhere, tourists are guests, not gods. Don't presume that every resident is a tourist information stand with nothing to do in life other than give you directions or explain why there is no bus until morning.
Locals have their own lives and may seem rude or abrupt from time to time, but this might be because they are running late or have problems you know nothing about.
Be friendly, but don't expect all Italians to treat you like a long-lost sibling. Locals can feel uncomfortable or even threatened when treated with too much familiarity by a stranger. You're full of the bubbling joy of a newly-arrived tourist, but they might be nearing the end of a ten-hour shift on their feet.
Take it slow when talking with somebody and give them time to open up as they get to know you. The worst error to make is to see that they don't understand you and then say exactly the same thing, but louder, getting visibly impatient because they don't understand your language or attempt at Italian. Patience reaps the rewards.
Be aware of the regional sensibilities. People from different parts of this diverse country have their own ways, customs, norms, and outlook. Someone in Palermo, Sicily, will not be impressed if his island is compared to Trieste or Venice.
Many locals will have never traveled to the other place of comparison, but it will make no difference. When visiting an area, particularly out of the big cities, rather avoid praising other parts of the country.
Loud and drunken behavior is frowned upon by most, and yelling and clowning about in public will gain you no friends. Swearing loudly is another no-no, and wearing tank tops, vests, skimpy shorts in museums, places of worship, shops, and restaurants is unacceptable. Leave the beachwear for the beach – there are plenty of those in Italy.
Old buildings and narrow, cobbled streets will seem picturesque and quaint, but may also be someone's home, so be respectful when staring or taking pictures. A simple greeting (see above for tips) or 'Grazie' will usually prevent the ruffling of any feathers.
Conclusion
Do you need to speak Italian in Italy? No.
Will it help you to get far more out of the experience? Most definitely.
I recommend that you learn as much as you can – within reason – before you go.
For a week trip, perhaps learn the ten words/expressions I have detailed above, and you will certainly pick up another 20 while you are there. For a two-week visit, I would do a free online course before you travel. This will give you a lot of confidence, and you will be buying wine and cheese with impunity when you go shopping in the markets there.
Anything longer than two weeks requires that you put in some real effort to avoid the frustration faced by unprepared visitors. Do a good online course before arrival, and then consider a morning course once you settle in. The truth is, the more you try to integrate, the more you will be embraced by those in your sphere.