The convenience that our devices offer has tethered us to our technology. Therefore, many travelers prioritize finding reliable Internet connections abroad. If you plan to enjoy Italy's rich culture and exquisite scenery, you might wonder how to get free WiFi while you are there.
Italy has amongst the slowest Internet in Europe, making it challenging to find free WiFi with a reasonable speed. However, major Italian cities offer complimentary networks at places like hotels, restaurants, airports, post offices, trains, and universities, to name a few.
While there are several spots in Italy to find a WiFi connection, these hotspots have their limitations. To find a reliable Internet connection that doesn't pinch your pennies requires research and careful planning. 
Hotels
Most hotels and rental accommodation in the larger Italian cities offer their guests free WiFi. However, Italy's Internet speed is ranked amongst the lowest in Europe, with an average speed of 8.5Mbit/s in download and 2.0Mbit/s in upload. Therefore, you will be able to check your messaging apps and update your social media, but the Internet is likely to be far too slow to stream media, download files, or video call.
Restaurants
You will likely find a WiFi connection while visiting cafes and restaurants in the major Italian cities. However, you will most likely have to make a purchase since free WiFi is complimentary for customers. Furthermore, establishments in smaller Italian villages will most likely not offer Internet connection to their visitors.
Be warned that you should not rely on international chain restaurants, like Starbucks, for complimentary WiFi. You will find that you cannot use the networks at these establishments for much more than opening your messaging apps since they are extremely slow.
Municipal WiFi
Municipalities in many of the larger cities in Italy have sponsored free WiFi hotspots. Once you register on the municipal Internet site, you will be able to make use of a free connection at one of their many locations in Florence, Siena, Venice, Genova, Pisa, Rome, Piemonte, Sardinia, and Friuli regions. This protocol requires access points to offer users a minimum of two hours free per day.
While this option is good in theory, the free city Internet is rarely convenient to use. You might find it difficult to register or to connect and experience an impossibly slow Internet connection.
Airports
Upon landing in Italy, you can enjoy complimentary WiFi at the airport. The registration process is simple and asks for your name, email, and password. Travelers should note that these networks work well for checking your messages and updating your newsfeeds, but they are often too slow for anything more.
Poste Italiane
You may find it more convenient to use the WiFi network provided by one of the Poste Italiane offices. These hotspots offer free unlimited data to customers from 8:00 am to 8:00 pm. To make use of their network, search for a branch near you. After that, enter your cell phone number to receive an access code and sign into the Poste Italiane website.
Service Areas
Service areas on the Autostrade per L'italia offer fast and reliable WiFi hotspots, called 'Hi Points,' to tourists who travel by car. This network allows you to use the Internet from the convenience of your car. The Autostrada Service Area Locator assists you in finding a WiFi hotspot at a service area closest to you.
Trains 
Tourists using the Frecciarossa or Frecciargento trains to travel around Italy can access complimentary Internet on their devices with an embedded WiFi card. However, the signal can be unreliable when the train moves through tunnels and makes stops at stations.
Universities
For students visiting Italy, there is free WiFi access through EduRoam at Italian universities. You will need to use your student account details to access the network. The WiFi offered by the universities is usually speedy enough for downloading and uploading files.
Where To Get Free WiFi in Italy
Below is a list of places to find complimentary WiFi in Milan, Venice, Rome, and Florence.
Milan
1. Milan city Wi-Fi: OpenWifiMilano
2. Piazza Castello: Piazza Castello, 20121
3. MilanoFontana del Castello Sforzesco: Piazza Castello, 1, 20121
4. MilanoServe di Gesù Cristo: Via Lucano 1, 20135
5. MilanoWok: Viale Col di Lana, 5, MilanoMò
6. Comfort Food Cafè: Upim POP Corvetto, 20139 Milano
Venice
1. Venice city Wi-Fi: WiFimetropolitano or VeniceconnectedPiazza
2. San MarcoKori: San Marco, 280 Venezia VE 30124, 30124
3. ItaliaTrattoria ai Leoncini: San Marco, 352-372, 30124 Venezia
4. ItaliaRistorante Feliciani: Via Antonio Locatelli, 11, 24020 Villa di Serio BG
5. ItaliaHotel Gabrielli: Riva degli Schiavoni, 4110, 30122 Venezia, Italia
Rome
1. Rome city WiFi: DigitRoma
2. WiFiBasilica di San Pietro in the Vatican: Piazza San Pietro, 00120
3. VaticanObica Mozzarella Bar Roma Campo Dei Fiori: Via Guido d'Arezzo, 49, 00189
4. RomeL'isloa Della Pizza: Via degli Scipioni, 45, 00192
5. RomeCinecittaDue : Viale Palmiro Togliatti, 2, 00173
6. RomePizzeria Boccione : via Dei Monti Tiburtini 536, 00157 Rome
Florence
1. Florence city Wi-Fi: FirenzeWifiPiazza
2. San MarcoScuola Leonardo Da Vinci Firenze: Via Maurizio Bufalini 3, 50122
3. FirenzeThe Lions Fountain Irish Pub: Borgo Albizi 34/R, 50123
4. FirenzeObicà Mozzarella Bar Firenze : Via de' Tornabuoni 16, 50123
5. Firenzeda Garibardi : Piazza del Mercato Centrale, 38r, 50123 Firenze
Cheap WiFi Alternatives in Italy
Finding reliable and speedy complimentary WiFi while following your travel itinerary can prove inconvenient. You may want to consider options for cheap WiFi access to make your visit more enjoyable.
1. You may opt to purchase an international hotspot. These are portable devices that connect to local carrier networks to produce a WiFi signal. While you will not need to purchase a SIM card for the device, it will only offer a connection where there is carrier service.
Using a hotspot device is ideal if you're going to visit more remotes towns in Italy for a shorter period since data charges add up quickly. There are several hotspot devices to consider:
Skyroam: Skyroam has a portable 4G LTE WiFi device called Solis, doubles as a power bank. While purchasing the device is a significant investment, it only costs about $9 per GB of data.
Tep Wireless: Tep has a WiFi device called Teppy, which you can rent for your trip. It costs about $9 per day.
2. Alternatively, you could contact your service provider to unlock your phone. This will allow you to purchase an international SIM card once you arrive in Italy. Stores will require you to provide your passport when purchasing the SIM card. Once you have inserted your new SIM, you can purchase cellular data at a reasonable rate and freely use your phone.
Utransto is a service that allows you to instantly top up on mobile data if you have exhausted the data on your Italian cell phone number. Using the service is very simple:
Once you have registered on the Utransto website, select Italy as your location and type the phone number you wish to top up.
Select the service provider you purchased a SIM card from.
Choose a payment method. Since bank transfers take as long as 48 hours, it is best to use your credit card as your payment method.
You should receive an SMS and email to confirm that you have paid for your data and that it will be loaded to your account.
If you are visiting Italy for more than a month, you may opt to purchase an international SIM card and open a prepaid mobile data account. For €20 once-off, TIM offers 15GB of data and 200 minutes of airtime. You can visit the TIM website or store to open an account.
Apps That Work Without Internet Connection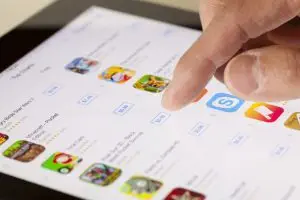 Trying to squeeze finding free WiFi hotspots into your busy travel itinerary is no easy task. Luckily, there are several apps that you will be able to use without connecting your device to WiFi.
1. Google Drive
Google Drive is a popular cloud storage platform that allows its users to save files while offline. This makes it possible to access and work on documents without a WiFi connection.
To access your files while offline, click on the icon at the top-right corner of the document you intend to open without a connection, then select "Make available offline."
2. Google Maps
Google Maps is an essential tool to have at your disposal when traveling. You can use the app to find hotels, restaurants, tourist sites, or even give you a helping hand should you lose your way.
Before you leave an area where you have access to the Internet, it is best to download a map of the area you are visiting. This will allow you to access Google Maps without an internet connection.
To download a map, open Google Maps then search the location you plan to visit. Select the "More info" option that appears, then click "Download."
3. Spotify
Listening to music is a peaceful way to pass the time traveling to your next destination. Spotify is a music streaming platform that allows premium subscribers to download playlists and podcasts for offline listening.
To download your playlist, select the 'download' icon from the playlist's options. After downloading your playlist, enable "Offline mode," which allows you to listen without a WiFi connection. This can be done by opening the app's "Settings," selecting "Playback," and activating "Offline mode."
4. Netflix
Netflix allows you to take your favorite series and movies with you on vacation. However, before attempting to download content, ensure that your smartphone is updated with iOS 12 or later or that your Android device is running 4.4.2 or later. Furthermore, check that your Netflix app is updated. After that, you can freely download content to watch while you travel.
5. YouTube
YouTube offers an option to download content for offline viewing. This is ideal if you wish to pass the time on trains or planes. However, it is important to note that Google has made this feature free in developing countries in Asia, Africa, the Middle East, and the Caribbean. Travelers from outside these countries must be premium members to download YouTube content.
To download content, open the YouTube app and select a video you wish to view while you are offline. Once the video is open, select "Download "to save the video to your app's "Library" section.
Conclusion
Italy has amongst the slowest Internet in Europe, making it challenging to find free WiFi at a reasonable speed. Major Italian cities offer complimentary WiFi hotspots that can be accessed by registering. Most hotels, restaurants, airports, post offices, trains, Autostrade per L'italia service areas, and universities offer complimentary Internet connection.
While more remote areas in Italy seldom offer free WiFi, major cities such as Milan, Venice, Rome, and Florence have several establishments that offer visitors free WiFi connections.
However, finding complimentary WiFi can prove inconvenient. Therefore, you may want to consider paying for cheap WiFi access. While international hotspots can be a hefty investment, they are quite affordable to rent.
Alternatively, you can contact your service provider to unlock your phone and purchase an international SIM card. This will enable you to buy pay-as-you-go cellular data or open a prepaid mobile data account should you be visiting Italy for more than a month.
There are several apps that you can use without an internet connection. By downloading media, you can access content on apps such as Google Drive, Google Maps, Spotify, Netflix, and YouTube while you are offline.