Rugged mountains, scenic landscapes, and ancient medieval towns all contribute to the breathtaking beauty of Italy's countryside. With its lush and colorful blankets of wildflowers in spring to its white and majestic wonderlands in winter, it's no wonder that each year thousands of people flock to the country of love. Each of the following places deserves a spot on your itinerary when planning your next trip to the Italian countryside:
1. Neive, Piedmont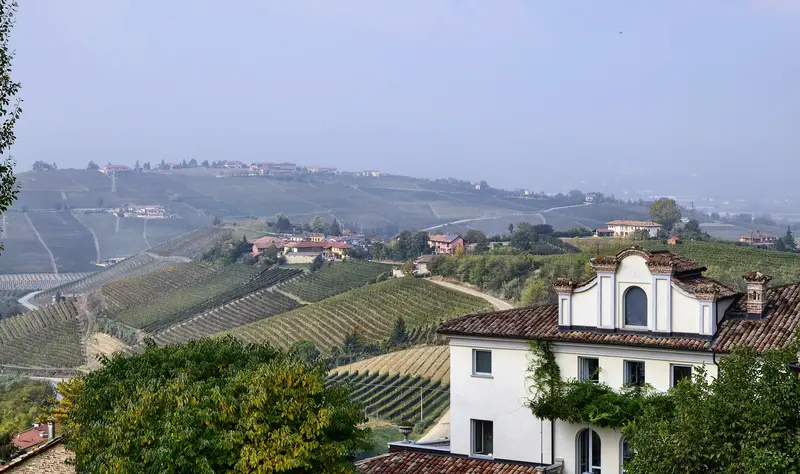 One of the Italian countryside gems is the small medieval village of Neive situated in the second largest region of Italy: Piedmont.
Several vineyards are located close to town, so it's no wonder Neive is most famous for its excellent wines. One of these wines is the full-bodied red wine Barbaresco made from the Nebbiolo grape. A staggering 30% of this wine's production takes place in the Piedmont region.
Neive is also the place to appreciate historical architecture. The Torre Dell' Orologio (The Tower), for example, has been knocked down and rebuilt numerous times. It is believed that the current version has been built around 1224. Most of Neive's other structures are still well preserved. Various buildings, monuments, and churches are situated around the village's central point, Piazza Italia. Locals and tourists can enjoy simple Italian dishes made from fresh produce and local cheese.
September and October are the best months to visit Neive as the surrounding vineyards are at their most glorious. Furthermore, the truffle festival is celebrated every weekend during October. It's a night-long celebration filled with music, dance, and local cuisine.
One of the best restaurants in Neive and a worthy Tripadvisor winner for 2021 is La Luna Nel Pozzo. You'll be able to find succulent dishes prepared with fresh produce from the region on the menu. Some of their delicious dishes, for example, are Marinated Veal Carpaccio, Boned Rabbit filled with Black Truffle, and handmade pasta filled with aubergines.
Where to stay in Neive
2. Castelluccio, Umbria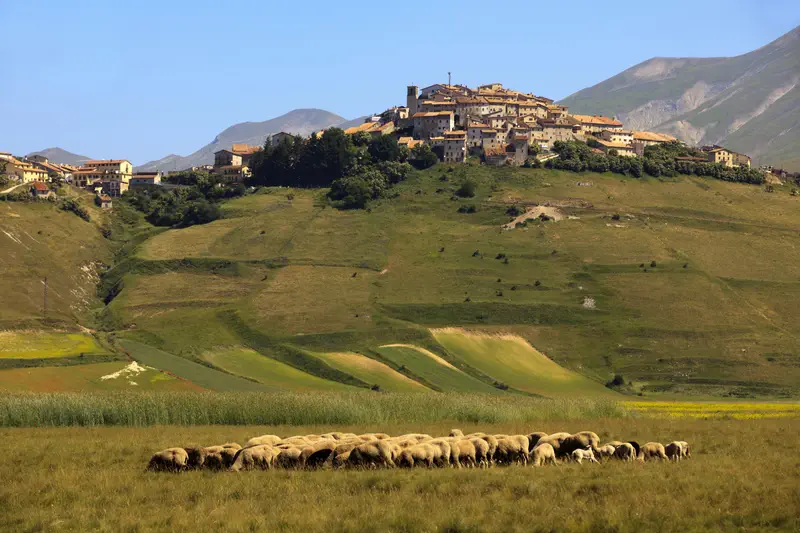 Castelluccio di Norcia is a small Italian countryside town located inside the Mounts Sibillini National Park. The Park is well-known for its stunning forests and beautiful panoramic views. Castelluccio is situated in the middle of a large plateau on top of a hill. It's the highest settlement in the Apennines.
Castelluccio is best known for its flowers when the large plateau transforms into a colorful mosaic of blooming flowers during springtime. This transformation is fittingly called Fiorita or Fioritura, which means 'the flowering.' This beautiful transformation, which should be seen at least once in a lifetime, is annually celebrated at the Festa Della Fiorita (The Flowering festival) on the third and last Sundays in June.
The best times to visit are definitely when the flowers are in bloom, anytime from late May to the end of June. Apart from its spectacular flowers, the area of Castelluccio is also known for its cultivation of top-class lentils that are super soft and selected by hand.
Local dishes that include these homegrown lentils can be enjoyed at various restaurants situated in town. One such restaurant is the warm and hearty Locanda de' Senari, another worthy 2021 TripAdvisor winner. Here, you can enjoy anything from lentil soup and homemade ricotta to spelt with porcini and truffle. All these mouthwatering dishes are prepared by the warm and welcoming owner and chef Mariella.
Where to stay in Castelluccio
Currently, there is no accommodation listed for Castelluccio. However, there are several options available only a few miles from town:
3. Pitigliano, Tuscany

Located in the south of Tuscany, you will find a town called Pitigliano, also called 'Little Jerusalem.' This small countryside town is practically carved out of volcanic rock, and the beauty of the surrounding green landscape is typical to that of Tuscany: breathtaking.
Almost every street and historic alleyway offer a magnificent view over rolling hills full of olive groves, oak trees, pine trees, and chestnut. Although the town is small enough to cover by foot, it is filled with museums, cathedrals, and fortresses from its rich ancient past. One such building is the 14th-century fortress near the entrance of the town: Palazzo and Fortress Orsini. Nowadays, it is a museum filled with Etruscan artworks.
The first week in September marks the start of the SettembreDivino – a yearly wine festival where the cellars are opened, and the center of the town comes to life with thousands of people, shows, music, and, of course, wine. The surrounding vineyards of Pitigliano produce the renowned Italian white wines: Bianco di Pitigliano.
Typical to Italy, there is no shortage of local cuisine, fresh produce, and Italian specialties in Pitigliano. One such specialty is the traditional Jewish dessert called Sfratto del Goym. This delicious dessert is made of thin sheets of flour, sugar, butter, eggs, and spices with a filling of honey, nuts, nutmeg, and citrus peel.
A great restaurant and a 2021 TripAdvisor winner is the Trattoria ll Grillo where you can find traditional and typical Tuscan cuisine prepared with fresh and seasonal ingredients.
Where to stay in Pitigliano
4. Spello, Umbria
If you want to visit one of the most beautiful towns in the Italian countryside, you need to look no further than Spello. This majestic town in the Umbria region, between Assisi and Foligno, is surrounded by walls and is only accessible through various gates, which gives it a charming medieval feel.
This postcard-pretty village is filled with narrow cobblestone streets and Roman structures. The Palazzo in the center of Spello dates back to the 17th century and reminds one of the Roman and medieval eras and the rich history of this town. The town center is recognizable by the collection of honey-tinted stone houses, churches, and towers.
The main piazza, Piazza della Repubblica, is decorated with lamps and lights and is filled with various restaurants, wine bars, and taverns. There are also different art shops situated on both sides of the street.
There is a blanket of olive trees growing on the hills behind Spello, so it's no wonder that this small medieval town is best known for its high-quality olive oil. However, legumes like lentils and chickpeas are also cultivated and can be found integrated into almost every menu throughout the various eating spots.
There are two notable annual festivals in Spello. The first one is the Olive Oil Festival or L'Oro di Spello celebrated during December and packed with tasting sessions, enactments of peasant life, and thematic dinners. The second famous festival is the flower festival called Inflorata, which occurs every year in either May or June. During this festival, residents, from young to old, create and display beautiful religious-themed tapestries created with flowers picked in the surrounding areas.
There are various restaurants where you can enjoy freshly baked bread dribbled with Spello's famous olive oil or simply enjoy another delectable meal prepared with fresh produce from the town. One restaurant, a TripAdvisor Traveler's Choice for 2021, is Osteria del Buchetto. Traveler's from all around rave about their delectable dishes and extensive and somewhat overwhelming wine list.
Where to stay in Spello
5. Brisighella, Emilia-Romagna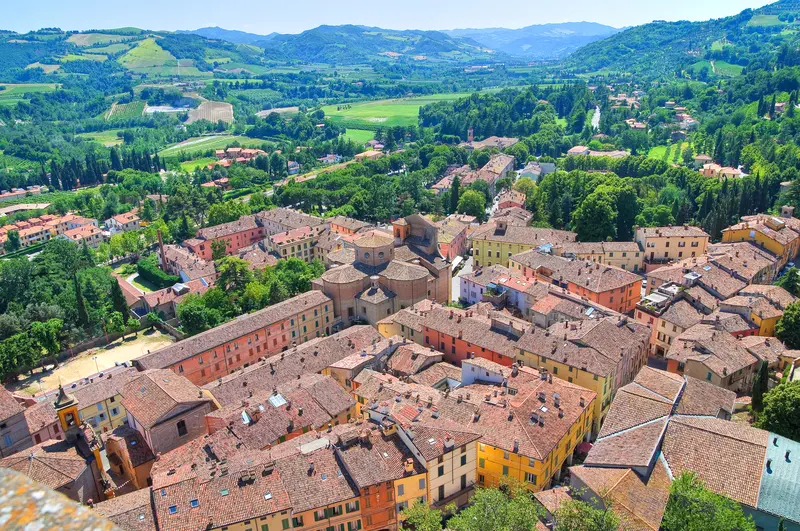 One of the most beautiful communes in Northeast Italy is Brisighella, which is situated midway between Ravenna and Florence. This medieval village is well-recognized as 'The Three Hills Village' as three distinct rocky hills surround it. You can find a 14th-century castle on one hill while the other two are identified by an 18th-century church sanctuary and a clock tower from the 19th century.
This beautiful town is surrounded by fertile fields, olive groves, and vineyards. It's the perfect place to unwind and relax as it is not that frequently visited by international travelers.
Brisighella comes to life at the hub of the town: Piazza Carducci. The town is made up of old paths, ancient houses, and cobbled streets. Here, you will find the church of Saint Michael and John the Baptist with an impressive collection of artworks from the 15th and 16th centuries.
Like Spello, Brisighella is best known for its top-quality award-winning extra virgin olive oil. The locals can even fill up their own jugs with oil using the gasoline-type pumps built into the town walls.
Apart from olive oil, Brisighella also produces various other local products like the Moretto artichoke. This homegrown delicacy has a unique, rusty taste and is free from any genetic manipulation, and of course, it pairs pretty well with the village's delectable olive oil.
One outstanding restaurant for trying out local cuisine is the 2021 TripAdvisor Traveler's Choice winner, Ristorante La Rocco. This eatery has a terrace with a spectacular view where you can enjoy dishes like 'Moretti' artichoke salad in a Parmesan basket or 'Roasted locally sourced lamb with rosemary and flavored salted potatoes.'
The best time to visit Brisighella is during spring and autumn. Let's have a look at some accommodation options for March, April, and May:
Where to stay in Brisighella
Conclusion
Each of these Italian countryside towns possesses a charm of its own. With their spectacular landscapes, local Italian cuisine, good wines, and rich medieval histories, there is no doubt that you should consider at least one of them in your next Italian holiday itinerary.